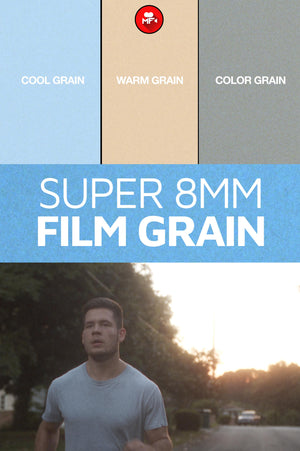 The only Super 8mm Grain Pack scanned in 6.5K Resolution

We are super excited to announce our new 6.5K 8mm Film Grain Pack. This is the ONE AND ONLY 6.5K Resolution 8MM Film Pack on the market. You won't find anything else like this out there. 
After months of research and collaboration with our good friends over at Gotham Photochemical, it's finally here! Stunningly clean 8mm grain, texture, and mattes - All in 6.5K Resolution so you can use on any project.
Watch the Promo
Cinema-Grade Quality
We processed and scanned these REAL grains from Kodak 50D film stock to make sure the results were up to cinema-grade standards. And because of the high resolution, you can use these on virtually any project for stunning results.
Maximum Flexibility
This pack offers
6 UNIQUE
grains for any look and any shot. So you have plenty of options to choose from for your specific project.
Want something cooler?
Choose the cool grain for that classic cool look.
Need something more noticeable?
Overlay the "coarse grain"
Why this pack?
I know what you're thinking, ugh not ANOTHER film grain pack, what makes this one so different from the other dozen? Well for starters this pack is 100% real film grain, mediculiously processed and scanned by experts. I know it sounds obvious but you'd be surprised how many other packs out there are fake emulations.
We worked with the amazingly talented crew over at Gotham Photochemical Labs to scan and process this REAL grain shot on our Super 8mm Canon 814 Camera...and they did in in 6K. That means you can future proof your projects with this pack, and you'll never have to worry about scaling up your grain and getting muddy, pixeled grain. 
Bonus Perforations + Mattes
In the Pro Packs (4K / 6.5K) you'll get additional perforations + mattes & textures to create with and take your film look to the next level!
See the difference
Add 6.5K Film Grain To Your Next Project