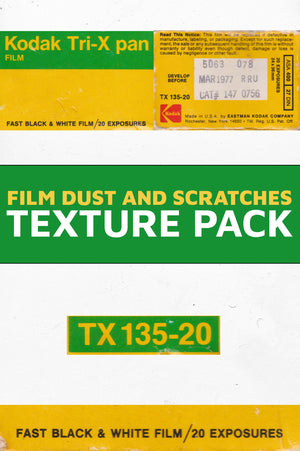 FILM DUST AND SCRATCHES TEXTURE PACK
The newest addition to our texture assets, Film Dust and Scratches Texture! We are so excited to release this product.
We've sourced these dust and scratches from Kodak Tri-X Pan Expired Film from 1977 to get the MOST texture and scratches from it

ADD VISUAL TEXTURE TO YOUR VIDEO IN SECONDS
This pack is completely streamlined so you can simply drag and drop over your footage and get instant vintage texture!
We also love using this as a textured backdrop for titles or animations! The beautiful thing is this pack is completely modular so the sky is the limit!

USE FOR PHOTO OR VIDEO
We've included both the Prores 422 .MOV files and all of the individual PNG files so you can add beautiful film texture across all your content whether it's photos or video!
WATCH THE TEASER

 Add Authentic Film Texture To Your Edit Today