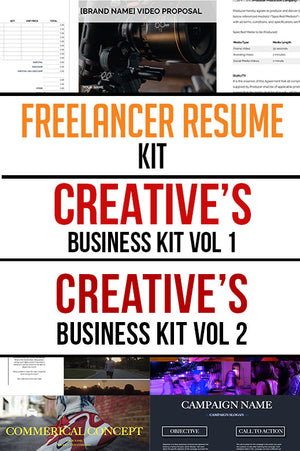 The Ultimate Business Kit for Creators

This pack is everything the creative needs to 
protect themselves and their work
. Often times we don't focus on the business and legal aspect of creating and it's ACTUALLY one of the most important parts. 
Download Today, Save Yourself $1,000's
We've had over
5,000 creatives
and counting download this pack.
We've received countless emails and DMs from customers telling us that the contents of this pack have saved them $1,000s in lost project payments.

That's why we are doing this, to empower creatives to protect themselves.

Over 150+ Pages Of Templates including BOTH Creative's Business Kits + Freelancer's Resume Kit
Use A Proven Formula

With over 150+ pages of production agreements, film treatments, commercial treatments, music video treatments, invoices, and every other business document, you can rest assured your project is protected and your business is covered.
We created this kit out of our own personal need. We had been taken advantage of for far too long and we knew we needed a pack of business documents that could help us land jobs, protect those jobs, and simplify the entire process. 
Focus on Creating
As creatives, we should be doing exactly that...focusing on creating beautiful work for our clients. Not worrying about tedious business contracts and clauses. The Creative's Business Bundle covers you so you do exactly that. 
These are proven treatments and contracts that we personally use in our own video production company. We put our money where our mouth is. 
Includes:

BONUS #1 TRAINING - CRAFTING THE PERFECT TREATMENT
BONUS #2 TRAINING - FULL CRM WORKFLOW
BONUS #3 - 150 REFERENCE PDFS FROM REAL TREATMENTS


Want to Level Up Your Business?
Don't take it from us 👇